FOOD SAYS A LOT, THE BOND CAN BE EXPLAINED VERY WELL WITH EMOTIONS OF MOTHER'S LOVE

Mother and Mother Nature is a very unique gift to humans in this world. In other words, we can say that Mother is Nature itself. We cannot even imagine our life without a mother. The greatness of the mother can be gauged from the fact that even if a person forgets to take the name of God, he does not forget to take the name of the mother.
Mother is considered a great symbol of love, compassion, and Sacrifice.
Always a mother wants to give her best comfort to her children even after suffering from all over the world. On the other hand, in the same way, Our Mother Nature gives thousands of things to us to human welfare to everyone without selfishness, whether it's like pure water, wind, trees, plants, and much more, or anything which comes directly from Nature. There is no such difference between Mother & Mother Nature. 
Nature has some transformative powers that change our nature accordingly, and It has the power to get the patient out of their disease if we provide the necessary and pleasant environment. It is very important for our healthy life, That is why we should preserve it for ourselves and the next generation.
It is truth itself that in the special propensity between the mother and children bond, the food made by the mother's hand has a different place in itself. It's said that a lot of love is present in the mother's handmade food items.
This is why we have brought for you the valuable products of Kisan Kirana Grocery products which connect you with such a brand of grocery items and cereals that come directly from Mother Nature to you without losing Mother's extra care and love which is a bond of love between mother and child.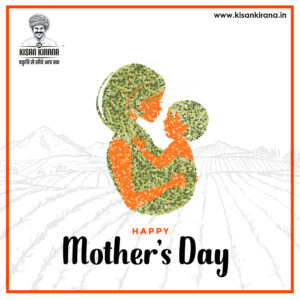 We promise you the

best quality cereal

for your family directly from the farm to home. It is known for its numerous health benefits and taste.

We serve you the taste and pureness. Our spices are dried under the sun and grinned to keep the goodness of nature intact. Add a little flavor of your love and serve pure delight to your family.

Complement your fast life with our healthy instant mix. We offer quality with a taste like never before.

The pulses are directly sourced from farmers and selected by experts to assure quality. We guarantee nutrition with our organic products.
Kisan Kirana is a brand, which brings consumers & farmers close to each other with pure natural quality products and directly sourced from farmers. It is the first brand in Central India in which you get to see many domestic products along with quality Flours and Cereals, Spices, Dry Fruits, Instant Mix, Pulses, Grains, and Cereals.
Taste and healthiness with Kisan Kirana
Once again, warm wishes to all the mothers out there on this International Mother's Day!!
Eat Healthy stay healthy.
Strengthened the relationship of mother and children with safe and high-quality food products with us with Kisan Kirana.